So this weekend, really took it out of me.
I was going to have a whole recap of the weekend, especially jen's bday, but i was confined to a bed most of yesterday nursing the effects of too much fireball.
I am not going to lie, my eating this weekend combined with the all the alcohol...
was not fab.
However, I am hopping back on the train this week and getting my eating together. I am also shopping tomorrow for healthy foods for vacay (we leave Saturday eeeek) so i can stay accountable.
with all of that being said I am bringing a healthy recipe I tried last week.
Spaghetti Squash
*this was so easy BTW, we all know I am all about easy peasy recipes*
Now there are many ways to make spaghetti squash, but this is just the way I tried it.
Ingredients
* Spaghetti Squash
*Olive Oil
*Cherry Tomatos
*Garlic (2-3 clove)
*Fresh Basil
*Salt & Pepper to taste
*1/4 cup of mozzarella cheese
Steps
1. Cut squash in half. Place on a tray covered in foil, cut sides down.
2. Bake at 350 for an hour to an hour and half ( I think mine took about 70 minutes)--Basically put it in and forget about it.
3. Take out of oven and if you can easily pierce the skin with a fork, it's good to go. Let cool
4. As the squash is cooling, in a skillet (with a touch of olive oil) put in cherry tomatoes
(I cut them in half before i put them in there)
, chopped up garlic, & the salt & pepper.
5. After the squash has cooled ( I let mine for about 7ish minutes) Flip over and start scraping with a fork. WATCH OUT the first bit has LOTS OF SEEDS & darkish membrane looking things, so get all that out first.
6. After it is all scraped out dump into skillet with tomatoes and garlic. Add Olive Oil on top of squash (about 1TBS--you decide how much you want) and flip it all together making you sure you get the tomatoes and garlic and oil to coat the squash.
7. Add in cut up basil & Mozzarella cheese
TADA. ENJOY.
This turned out SOOOO good even D loved it. I will definitely be making it again. I served this with grilled chicken.
(after math of scraping)
Linking up with Allie & Kay.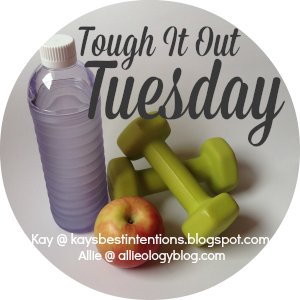 and kate :)