Good Morning!
So I suppose that I don't post on Monday's anymore...
I promise I will get back to it, but I really had nothing of consequence to write about..
BUT since it is Tuesday, I am linking for Tough it Out Tuesday which is basically a healthy living/fitness/etc etc link up!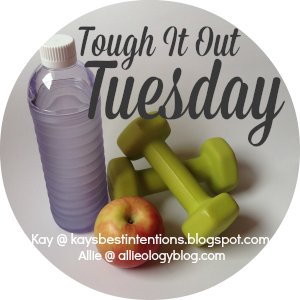 Today i wanted to share some of the reasons
(superficial and not
) reasons why I want to lose weight and get fit. Now we all have our own reasons and chances are they are probably similar to each others' in some way shape or form. However, they tend to be special to us AND help us get through a tough workout or say no to that brownie
(how do you people say no, i haven't figured out yet....)
I personally like writing things out. It gives me a better look at what I am doing and is quite therapeutic. Plus when it's in black and white right in front of me it's hard to turn a blind eye to.
WHY I want to lost the poundage----
+ Be able to walk into any store and fit into anything there.
Okay so I know it is unreasonable to say ohhh I will fit into and look great in errrrthannnng. yeah I know that won't happen. But I want to be able to walk into any store and try and clothes and have the majority at least fit/go over my bod. It's the worst when you go somewhere and even the Larges are WAYYYY to small.
+ Dem thighs.
yeah my legs. I would love to NOT chafe. If you have no idea what that is, thank the lord on your pretty little knees. I would like my thighs to not rub. OBVI, I want the thigh gap, BUT who knows if that will ever happen.
*do not roll your eyes at the thigh gap, I am not saying you have to have one, I'd just like it. Oh and don't worry D thinks they are gross and told me he doesn't want me to have one...*
But at least not have them rub together where it is painful. ALSO I have been squatting like a mad woman, so really just toned up thighs perhaps over the thigh gap.
+ To not be worried when D picks me up.
I love piggy back rides, picking me up when we are smooching or just picking me up in general. I'd prefer him not to feel like his back is breaking/secretly thinking 'Omg my girlfriends weighs so much' yeah I know he doesn't probably think that, but its in my head of over thinking...so it's a reason.
+Do a pull up
. yeah I have never done one EVER. I wanna build that upper body strength! Even if it's just one, (HEY that is a big goal for me) I am going to work for it.
+That yellow polka dot bikini.
So I am not a bikini wearer. Never have been. My belly doesn't need to be out like that. I am well aware it might not happen this year. I get it. Summer is in like 2 months, BUT I eventually want to not feel self consious in one. NOR feel the need to suck in
Why are you choosing to get healthy?
OH & have you checked out my workouts I
blogged
from last week?