How is it already Thursday???
This week literally FLEW by!
& i leave tomorrow for KC! AHHH I cannot wait!
My friend Alex & i are riding together and she gets in to town at about noon
tomorrow then off we go! EEEKS!
two days till Kenny Chesney & Eric Church!!
I am sitting here eating breakfast trying to get motivated to hit
the death treadmill
egg whites, yellow bell pepper, & spinach. Watermelon & OJ
Yesterday was lovely! Linds came over & we laid by the pool.
It was pretty toasty but i am slowly but surely getting
some color! && I haven't burned yet! *knock on wood*
We also got some Sonic Happy Hour
So anyway we all know I am a big weirdo. I do weird
shit & I am fully aware of it. However I do believe I have some good
qualities & that I can do some things well.
*I am a good cook. I love trying new recipes & many things that i try
*I can actually paint my nails well. Even though I am right handed I have gotten way better
at painting with my left hand.
*I am pretty selfless. If someone needs something, i am there. I have a
huge conscious and I feel guilty over things easily & i end up putting
people before myself a lot.
*I make people laugh. Granted it's usually at me, but i still can make people laugh.
*I am fabulous planner. I have OCD & I make lists about everything. I usually
go above and beyond on small things, but I am always the
person people turn to make plans & get things set up.

*I can tease hair LIKE NOBODY'S bizzzznass!

*I fold towels the correct way....perfectly :)
Now on to my 30 in 30 challenge. I do wish I was a little further
than I am but I am still trucking along & I am going to try
and get a work out in before we leave tomorrow
since I will have NONE this weekend.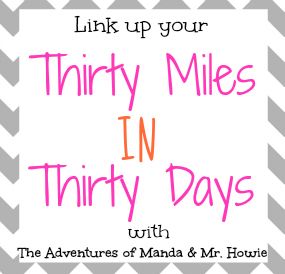 Week One: 4.14miles
Week Two: 6.22miles
one day til friiiiday :)