Happy Christmas Eve :)
I don't even care that it's monday..mostly because I am not working
and we are gonna be baking all night tonight.
baking?
why the eff am i baking?
Literally I cannot eat one more holiday food.
and by cannot i actually mean should not. I have got to stop...
MUST PUT DOWN THE FUDGE
SARAH, PUT DOWN THE FUDGE.

I have worked out everyday I have been home though!
good lord i missed this gym.
i am planning on buying a pass to workout at my friend Jessica's apartment gym.
now that i am back on the market,
girlfriend needs to get her ass in shape.
anywhoos being back in st. charles is always a blasty blast.
oh wait, but not. I mean don't get me wrong I LOVE being back with my family.
I am glad it's only two weeks.
But let me preface this with the fact that i know that Springfield
definitely has it's 'classy' spots and by classy
i mean the most white trash shit you will ever see. ALL towns do.
and i still LOVE living in Springfield
even with it's bath salt using (is that still the cool drug phase? I wouldn't know) homeless people downtown
but sometimes i just have to shake my head and think
what the eff? and in my head i actually use the
F word.
Anyways I am out n about yesterday in St. Charles
which is suppose to be a little more upscale than the Springfield.
Its more..... suburbia.
aka less mainstream bath salt users in public
There aren't any 'shady' places for the most part
but anywhoos I am out n about and this lady
is walking around the store smokin a cig while pushing around her child in the cart
sans clothes.
that's right people, no clothing.
This kid was post diaper age.
I will say it looked as though the kid came in
with clothes but had stripped down in the cart while in the store.
Ma'am, put your child's damn clothes on.
Now I love a little nakey baby running around the house.
presh.
Hell, I hate wearing pants, all day everyday.
Naked kiddo tushy is adorable.
inside a public place.
kids do shit. I get it. But she wasn't even trying to make this kid
who was at least 4 years old put his clothes on.
She was totally ignoring her butt naked kid who was being obnoxious and drawing all sorts
of attention to the both of them.
and to top it all off she was smoking inside.
WHO does this?
then i realized I was in Wal Mart after dark. Always a dangerous choice.
I have only myself to blame for what i saw.
people just amaze me.
Needless to say i tried not stare
got the rest of the stuff for baking and my new loofa and headed to the door.
So that is how I spent my weekend-
driving three hours.
eating everything in the house.
the gym.
and a pantless child in walmart.
how was yours??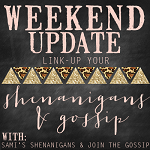 Hope your Christmas Eve is wonderful.
Have a very Merry Christmas tomorrow!