How is already the day before christmas eve??
where did this year go?
So i made back it to St. Charles last night!
it was 50 degrees and I wore flip flop on the way...in December.
i am SOOOO not complaining! I love this
kind of weather. Snow? Who needs it?

My mom, my sister and i went out to finish up dad's gift.
i think we did pretty good and it is all done so that is no longer stressing me out!
is all my shopping done though?
almooooooost! I decided to add to my sister's gift a little more
so i am heading out with my mom here in a bit to get something else for her present!
but before i head out I am linking up for Sunday Social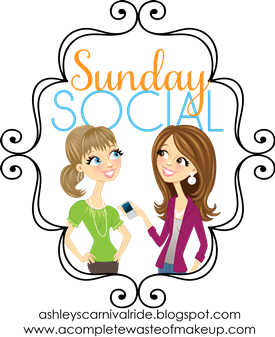 1. What is your favorite ice cream flavor? gosh I love ice cream.... but I think I am going to go with mint chocolate chip
2. What is your favorite smell? Fresh laundry! I love walking down the laundry detergent aisle at the store!
3. What is your favorite TV commercial? (Past or Present) hmmmmm... i still laugh out loud everytime
4. What is your favorite day of the week? Friday baby!!!
5. What is your favorite way to waste time? Pinterest & Bravo
6. What is your favorite article of clothing? currently, my new seven7 jeans. oooh and leggings, obv.
PS, like the new blog look? Yes I know its pretty similar, but i love
clean & simple and wanted to make it more stream line.