Good afternoon!!
I hope your Sunday is going well! Mine has been LAZY...what else is new.
Caleb and I are always lazy bums on Sundays.
The concert last night was amazing and I will tell ya all about it
tomorrow!
But today I am linking up for Sunday Social!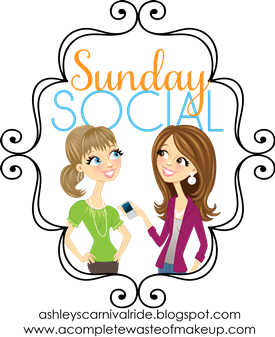 What is currently on your wish list?
a smart phone...of any kind.
I am diggin these.
A dishwasher..yes my apartment is not equipped with one.
Share your social media links for us to follow

Share a new iphone, droid or ipad app you have recently discovered
I do not have apps. See first wish list item above.
What is a new fall TV show that you have added your DVR?
WELL its not new but I am obsessed with How I Met
Your Mother and of course Real Housewives Bev Hills
for this fall!
Share your social media links for us to follow
and which is your favorite
Facebook-- I don't plan on sharing that on le blog
Twitter
Pinterest
Twitter is my favorite. It's less obnoxious than FB.
Don't get me wrong, I LOVE me some
pinterest too!
What is a TV show or movie or song you could listen to or watch over and over and over and never get tired of...feel free to name one of each!
TV: Friends. Duh.
Song: I have SO many favorites. But probably one that never gets old
is 'Bye Bye Bye' by N'SYNC.
i am still stuck in 90's obvi.
Are you linking up??
Hope your Sunday is relaxing and
wonderful!
Ps sorry if the font and alignment is off. Blogger is not my friend today