TGI FREAKIN F!
Helllo :)
Sorry I have been so MIA the past two days. I subbed both days
and stayed at caleb's and I was rushed in the mornings I didnt have time to
post. But I am back today!
I have a pretty great weekend coming up and
I am SO GLAD
that its here.
Tonight I am going to a friendsgiving and then out for
one of Caleb's friends bday. Then saturday
a few of us gals are gonna hit the town.
(Caleb is hunting..PRAY he gets a deer)
Lots of sleeping in and hopefully a few DIY projects.
Anywhoooos I have a lot to get done today
as far as making foodies for the
friendsgiving
tonight,
I am making green bean casserole and cider. :)
Today I am linking up for
Friday Fancies.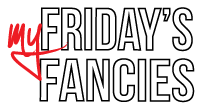 This week's theme is Autumn faves
and it can be based on anything fall.
Here is my inspiration-

Adult Pumpkin Shake.
My Outfit-
What do you think?
I m DYING over that scarf and leather jacket.
Also this is a perfect way to turn a summer dress into
a fall one.
Add tights and a jacket
Have a great weekend!