Well hello!
Happy Sunday! Hope yours is going well. It is bright and sun shiney
with 60 degree weather. This girl couldn't be happier :)
Today I am linking up for Sunday Social!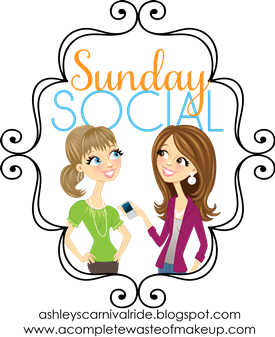 1. What do you value most in life?
My family & friends. The ability to take care of myself. The ability to walk
see and hear. So many people are not as fortunate to have those abilities.
2. What do you think is the greatest invention in your lifetime and why?
Electricity. oh and indoor plumbing. Girlfriend is not a fan of
peeing in nature.
3. What do you think is the secret to a good life?
I think striving to be and make others happy. Not with tangible
items but with the things you you cannot see, such as love, integrity
honesty, and compassion. If you strive to live that way you will be happy.
oh and chocolate doesn't hurt either
4. What would you most like to be remembered for when you're gone?
That I always made others feel welcome and comfortable. I have been so many places
where i felt unwelcome which made me awful I don't want to make
anyone ever feel like they do not belofe. Also, that i was an
excellent friend who people felt they could confide and share with.
5. What accomplishment in your life are you most proud of?
Graduating from college!
6. If a movie was made about your life, who would you want to play you?
Emma Stone.
She is too gorgeous for words.
One of the funniest ladies out there.
and a ginger.
tri-fecta? I think so.
I hope you guys had a fabulous weekend!!
I will fill you all in on mine tomorrow.
xo