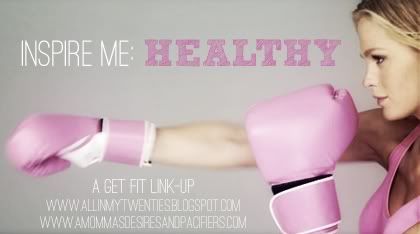 Alrighty so I have been working out
and eating a lot better since i moved home in June. I have not
been extremely consistent however.
So I am going to be using this link up
by two of the most hilarious bloggers I have come across to stay accountable
and get this booty in shape. As I stated before, I DO NOT want to HAVE to buy new
jeans this fall.
Anywhooooser-
Kristen
&
Raven
have this great fitness/health link up and i am joining in!
I hope you are too!!
My plan as of now for this link up
is to
keep track
of my workouts
each week. I will document exactly what i do at the gym.
I also will add different things like if i find (and actually try)
healthy recipes
or goals for the next week.
Inspiration--
I haven't hit the gym today yet, but yesterday i did and
it was the first time in OVER AN ENTIRE WEEK!
ugh. terrible.
So i only have one
entry for this post. Next week I will obviously have more.
Wednesday- 9/5
25 minutes on the treadmill (intervals of power walking/running)
15 minutes on the bike
_____________________ total:
40 minutes of cardio
Abs
- 50 regular crunches
50 pelvic lifts (feet on exercise ball- raising hips)
20 (per side) crunches
2 30second plank
Leg Stretching
Goals for next week...
Increase cardio (add more running on treadmill)
Add more planks
here's to getting healthy!