Now i am not the most fashionable gal out there
mostly because bank a-la Sarah is loooow on funds.
However, I do think that i know what looks good
and i sometimes know how to throw a look together.
Well i am linking up for the
very first time for
Friday Fancies.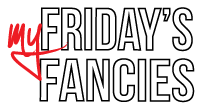 I have seen this link up a few times and i really liked it.
This week's theme is Football Frenzy!
I of course had to pick my fave team.
Love that red & white!
So here is what i would wear to a game
in mid september.
Really simple and comfortable
but classic.
The garage sale is tomorrow so i get to do last minute
pricing and organizing for the rest of the day.
Enjoy your friday lovlies :)